The role of the Board of Directors is to provide leadership and oversight of the activities of the School. The Board insures that the school operates with transparency and is active and forthright in its external communications.
Our volunteer Board of Directors is what one would consider a working board. On average Board Members donate 2–4 hours a week of their time. Our Board consists of both parent and community members. We survey our Board Members for their strengths that they bring to our organization and when a vacancy appears, we look for where the gaps are in our Board composition.
Carolyn Beem
Vice Chair
Carolyn is pleased to serve on the board of Fiddlehead Charter School because she appreciates the educational experiences her grandchildren have had at the school. Carolyn is a public affairs manager with L.L.Bean and serves on several business professional boards. The mother of three grown daughters and grandmother of six, she lives in Brunswick with her husband. In her spare time, she enjoys gardening, summer, anything outdoors, reading and spending time with the kids.

Ben Kramer
Treasurer
Ben has the pleasure of serving on the Fiddlehead school board in a finance capacity.  He has his MBA from the University of Southern Maine and has spent his career working in finance in the Portland area.  Ben has had the pleasure of watching two kids grow with Fiddlehead School and is now thrilled to be a part of the board for the school that has provided so much experience and enjoyment for his kids. 

Doug Lynch
Education Committee Chair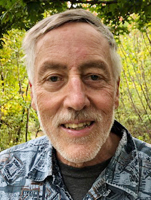 Doug is honored to bring over 40 years of educational experience to FSAS. With a Ph. D. in Educational Psychology he has worked with undergraduate and graduate teacher educators to facilitate their educational and professional growth. Having retired as Chair of the Education Department at the University of New England, Doug is thrilled to contribute to a creative, engaging school community. His areas of professional interest focused on motivation to learn and integrating assessment into the learning experience. He enjoys kayaking, walking and hiking, and meaningful conversations with family and friends.